For a Swiss customer in the food industry, we conducted a study of his current operational cleaning processes for bread baking trays. Then we determined in writing how he could improve this cleaning process with innovative procedures.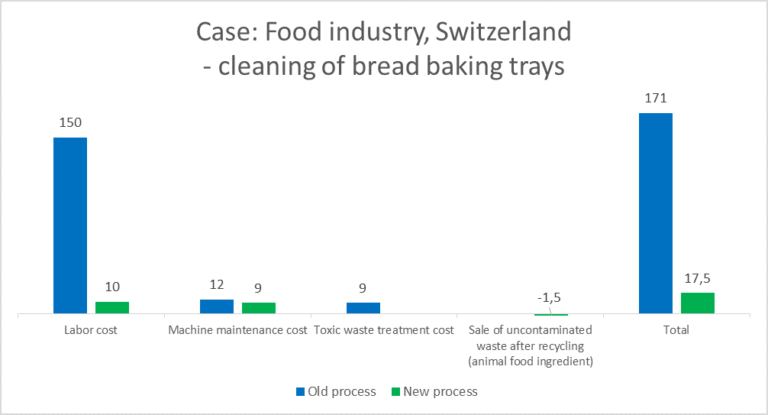 Here are the tangible results:
Today the company employs 3 people per day for cleaning (costs: 150,000 €/year). The waste (100 tonnes / year) is thrown away and the cost of destruction is 90 € / tonne, i.e. 9,000 €/year. The machine used is old and has significant maintenance costs: 12,000 € / year.
We have proposed a cryogenic machine as part of the study:
It works largely automatically: 0.2 people per day = 10,000 € / year

The waste is not contaminated and can therefore be recycled and sold as feed, e.g. for pigs = 15 € / ton of revenues (!)

The new machine will be amortised over 5 years and maintenance is included: annual costs of 9,000 €.
Our customer reduces his annual costs from 171 k€ with the old method to 17,5 k€ with the new machine. This corresponds to savings of 90% – every year!
But not only that: The cryogenic method is ecologically responsible and avoids contaminated waste, which would have to be destroyed for a lot of money and would further pollute the environment. This process does not need any cleaning agents or solvents and is therefore particularly environmentally friendly.
Above all, the study also gave the customer the certainty that the switch is worthwhile. With the exact figures, he has a guarantee of the profitability of his investment.
Anyone wishing to take a closer look at their cleaning processes can now have part of their investment costs reimbursed as state subsidies. In many regions, environmentally friendly processes are promoted above all. Information on investment aid and how our studies can help you with this can be found here