Atmospheric plasma cleaning and surface treatment
Plasma is an ionised gas consisting of electrically charged particles and highly reactive neutral particles. All of these will react with the surface of the material. The plasma is created in a nozzle in which a flow of compressed air passes through a high-voltage, high-frequency electrical discharge.
The effects of the atmospheric plasma jet are three-fold:
Kinetic, by the bombardment of highly accelerated ions and molecules onto the surface.
Thermal, due to the change of state from gas to plasma (jet temperature 200°C).
Chemical, by reaction with the atoms of the treated material.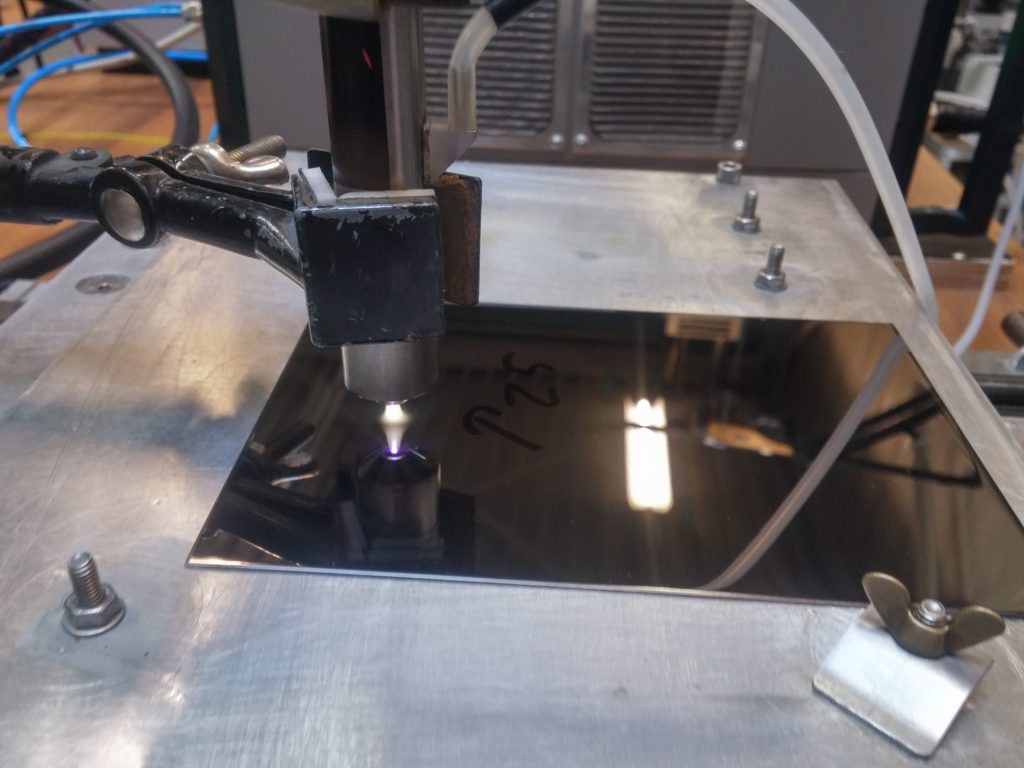 Atmospheric plasma cleaning
Innovative cleaning solution
Cleaning and sterilization of surfaces of materials such as plastic, metal, glass, textiles and recycled or composite materials. For cleaning, the plasma is only applied to soiling that can be decomposed into gaseous by-products (aqueous fluids, oils, polishing paste, etc.). Atmospheric plasma cleaning also removes chemically stable and highly adhesive substances and can be applied without problems to almost all workpiece geometries.
Atmospheric plasma pre-treatment / activation
Activation is a process to modify the nature of a surface or its energy. This usually increases the wettability of a surface (by adding polar functions) or promotes the adhesion of a coating (paint, ink, glue, varnish). Plasma activation is a simple process that allows a wide range of improvements. A plasma pre-treatment allows in one easy and low cost step to obtain a very good surface improvement.
Cleaning and activation prior to painting and varnishing with atmospheric-pressure plasma
Composites, due to the combination of materials (polymers, glass, metals, etc.) have complex surface properties. Atmospheric plasma paves the way for a high quality surface finish as it allows cleaning and activation in one step, facilitating processes such as painting and varnishing. As an environmentally friendly and efficient technology, plasma can replace the most common toxic treatments.