Our expertise in innovative industrial cleaning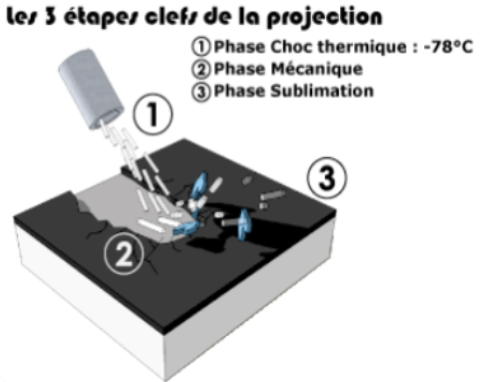 Innovative technologies and the functioning of industrial cleaning
Discover the latest technologies for cleaning machines, industrial plants, vehicles, buildings, etc. This is the functionality of surface treatments using lasers, plasma and dry ice: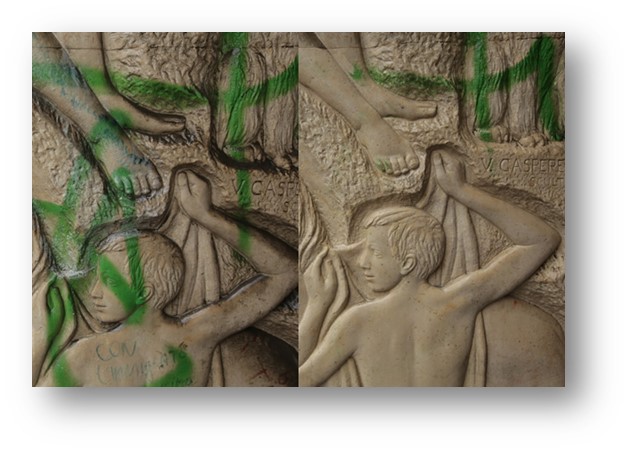 Use cases of innovative cleaning
For which applications are innovative industrial cleaning processes suitable?
Discover the advantages for
the elimination of soiling
the removal of incrustations
derusting
the homogenisation of surfaces
the stripping or degreasing of materials
the removing of graffiti, excrement, etc.
the decontamination after fires and other accidents
the disinfection against viruses, bacteria, etc.
the maintenance of machines and equipment
the detachment of wallpaper, paint and varnish
the cleaning of moss and other coatings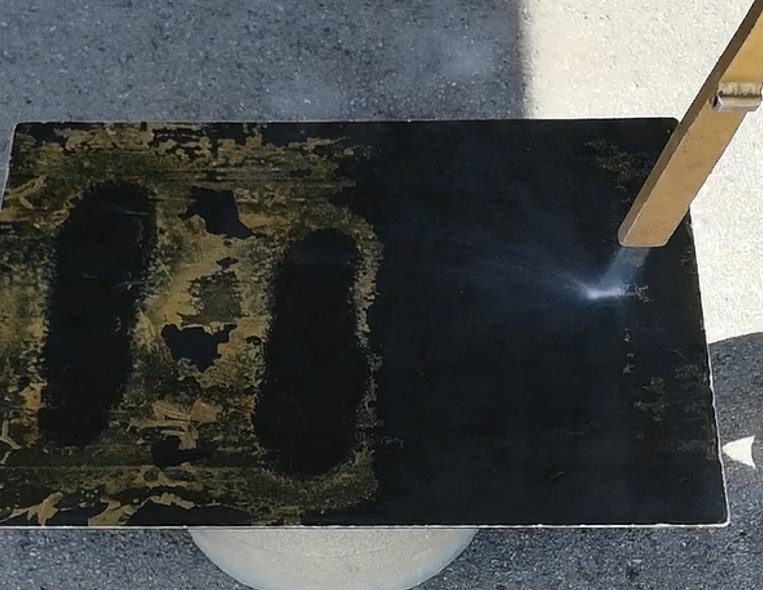 Innovative cleaning by industry
Which industries can benefit from innovative cleaning processes?
Food industry
Agricultural sector
Catering service provider, gastronomy, events and tourism
Automotive industry
Workshops for vehicles, maintenance and repair
Aircraft construction, shipbuilding, aeronautics and space
Travel and transport and logistics
Chemical / pharmaceutical industry
Utilities for electricity, water, gas as well as waste disposal and recycling companies
Public administration, municipal cleaning and maintenance companies
Historic preservation, restoration
Construction, building / civil engineering / road construction
Mechanical and plant engineering
Discrete and process manufacturing
Consumer goods production
Other manufacturing industry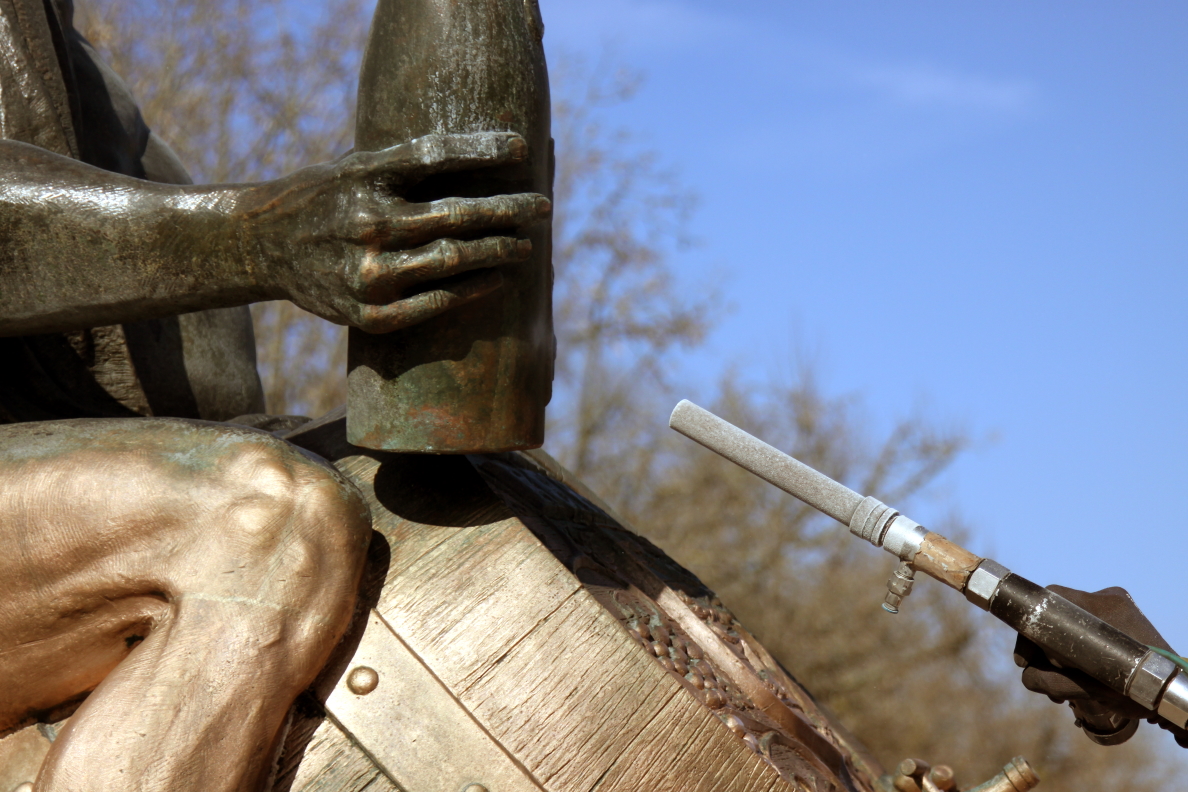 Materials and surfaces to be cleaned
Sensitive surfaces, in particular, benefit from these gentle, non-abrasive processes. Even hard-to-reach areas or those that would only be accessible for manual cleaning after disassembly can be cleaned quickly and easily with our non-contact methods. What materials can be cleaned with innovative processes?
Metal materials can be easily cleaned: e.g. iron, copper, bronze and metal alloys, such as stainless steel
Mineral or inorganic materials benefit from gentle cleaning processes without abrasion: rock, ceramic, glass
Plastic materials can be cleaned even if they are cables or other insulation of live parts
Composite materials are suitable for treatment with innovative cleaning methods, e.g. carbon, concrete, etc.
Hard organic materials such as wood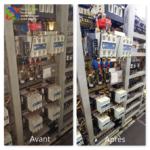 Profitability of cleaning processes
Innovative cleaning methods allow you to improve in many ways: money, quality, time and overall profitability.
Think about how much it currently costs to clean your engines, equipment, generators, manufacturing facilities, sites and vehicles.
In your calculation, do include:
Production loss due to downtime
Labor cost of dismantling and re-assembly
Transport of pieces to be cleaned to cleaning facility and back
Actual cleaning
Waste disposal
Depolluting of harmful substances
Cost of quality loss due to residues and abrasion after cleaning
Innovative cleaning solutions also aid in the early detection of defects and the elimination of fire hazards:
Faults in the hydraulic system
Defects in the electrical system
Leaks and cracks
Traditional cleaning by hand can make the working environment stressful and harmful. The new cleaning processes also have many advantages in terms of ergonomics and safety at work:
No contact with caustic and harmful cleaning agents
No physical strain during disassembly and assembly of the parts to be cleaned
Better ergonomics when cleaning hard-to-reach areas
No accidents during disassembly and reassembly of the machines to be cleaned
All of this results in more satisfied teams and less sick leave.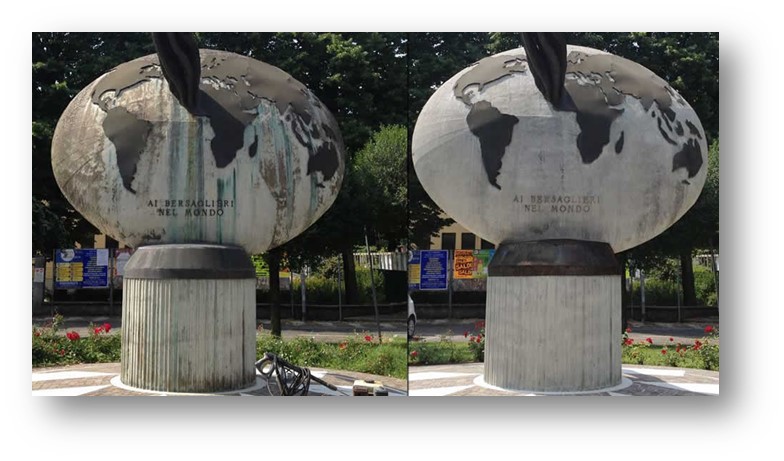 Industrial cleaning and the environment
How can you reliably remove soiling? With aggressive or abrasive chemicals that harm the material being cleaned and the environment? With a lot of time and manpower, while the cleaners must be protected from aggressive cleaning products?
No, today it is possible to do it better, faster and more ecologically: with innovative, cost-effective and people-, material- and environment-friendly cleaning methods such as cryogenics, laser and plasma.
Modern cleaning and surface treatment processes using laser, dry ice and plasma technology help to improve the environmental balance of operational processes:
No water is consumed.
There is no residue or contamination that would have to be disposed of at great expense.
No harmful or toxic cleaning agents are used.
Other benefits for environmental protection:
The quality of the parts to be processed remains consistently high. This reduces scrap and therefore avoids waste.
The recycling of building materials is often only possible after removing surface coatings and contamination.
After a disaster such as a fire, much damage and contamination is often left behind.
When disinfecting against viruses, bacteria, etc., the quick and non-contact application of an ethanol-based disinfectant by gasification of dry ice is much more environmentally friendly than the use of H2O2-based disinfectants, which can be harmful to humans and nature.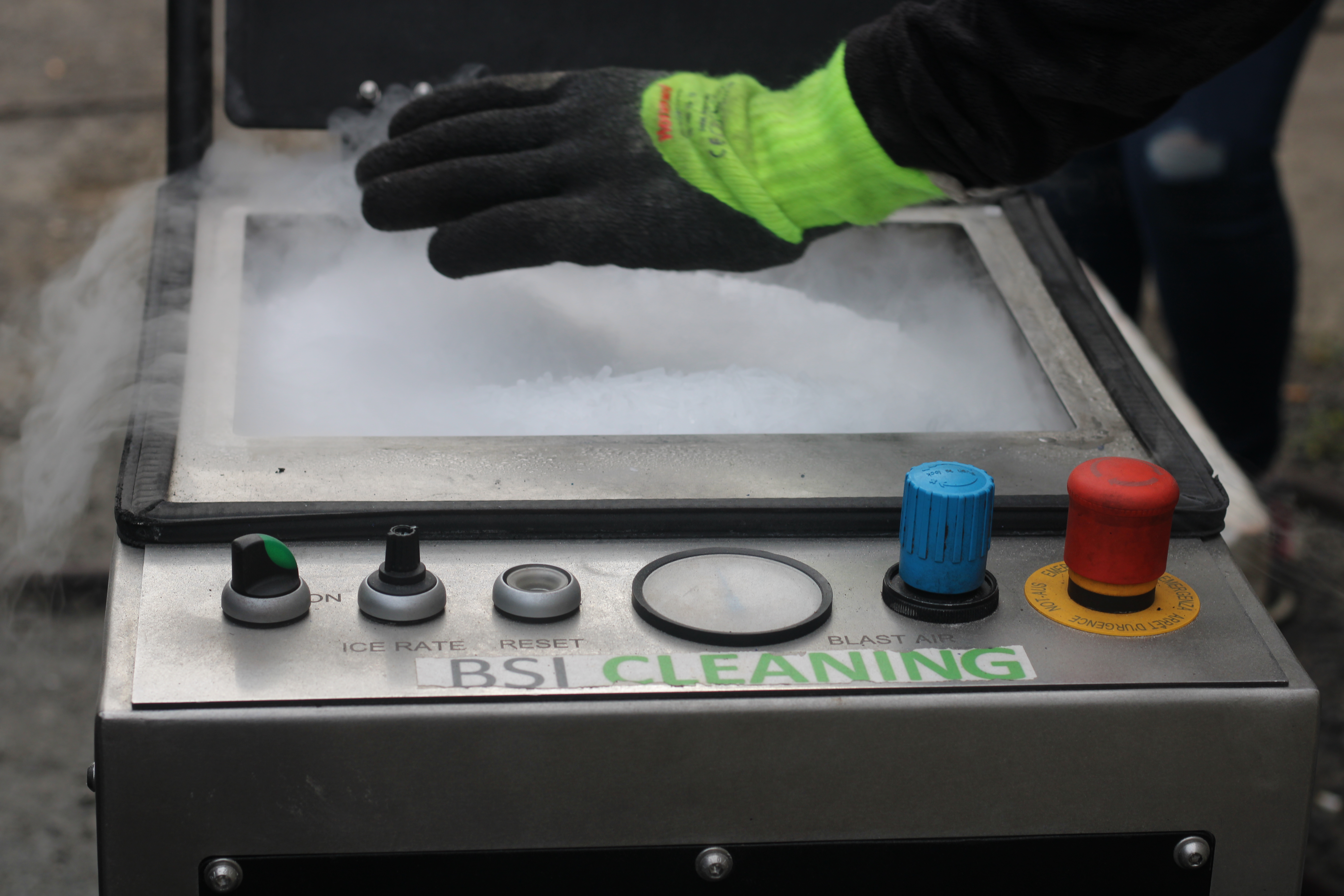 Machines and equipment for cleaning in industrial applications.
For every situation, every surface and every type of dirt, there are suitable innovative processes, machines and accessories.
We will be happy to advise you on the most cost-effective machine for you and provide you with a tailor-made offer.
Situations where different machines are used:
Application in a difficult to access area
Very sensitive application
Application requiring high aggressiveness
Application under voltage

Workplace with a high explosive atmosphere (ATEX)
Accessories that can be used in the treatment:
Personal protective equipment (PPE; hearing and respiratory protection, gloves, helmet, goggles, dust masks, safety shoes, etc.)
Hose / extension
Nozzle
Cleaning materials such as dry ice
Abrasive
Other
A tailor-made offer for an innovative process cleaning machine is available for:
Purchase
Rental
Leasing
Additional options (maintenance, support, warranty, …)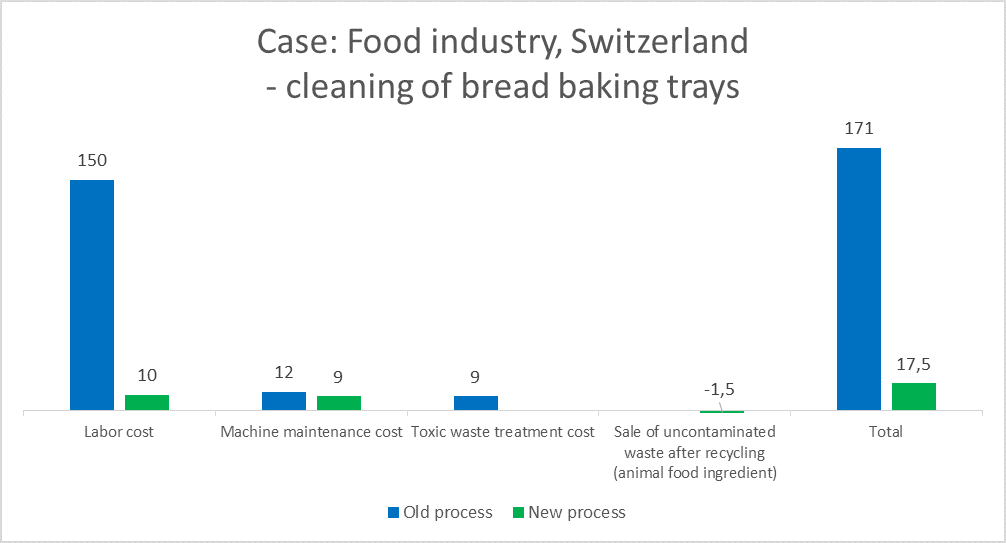 Training, studies and industrial cleaning services
Studies:
Since each project is special, we customize all of our services and goods. Our efforts are focused on identifying your needs in order to provide you with the best possible solution. This analysis saves time and resources while ensuring long-term profitability.
The analysis will show you the savings compared to your current costs and profitability.
Training:
The handling of laser, plasma and dry ice cleaning processes must be learned. That is why we offer you and your team the appropriate training and familiarisation:
How to adjust the machines?
How to operate the machines safely and securely?
What is the most effective cleaning method for this type of product?
What are the mistakes to avoid?
Etc.
Cleaning services:
If you prefer to outsource the cleaning work or if you only need to clean a specific object, we can take care of the cleaning for you with our team.
Situations in which you might prefer to outsource cleaning are, for example:
Initial cleaning of an object before its first use
Cleaning for maintenance, which occurs only once over a long period of time
Post-disaster cleaning and decontamination
Cleaning prior to reconstruction or dismantling on a production site
Etc.
Where are our products and services available?
Our studies on the cost-effectiveness of innovative industrial cleaning and surface treatment processes are available worldwide.
We also supply the machines adapted to the respective needs as well as the corresponding accessories throughout the world.
Ideally located in the Greater Region of Luxembourg, the French Grand Est area – comprising the regions of Lorraine, Alsace and Champagne-Ardenne with the departments of Moselle, Meurthe-et-Moselle, Meuse, Ardennes, Aube, Marne, Haute-Marne, Bas-Rhin, Haut-Rhin and Vosges – the Belgian Walloon region and the German states of Rhineland-Palatinate and Saarland, we offer our services from the heart of Europe. We also serve many happy customers in countries bordering the Grand Duchy of Luxembourg, such as Belgium, Germany and France, with innovative technologies such as cryogenics, laser and plasma.
We also cover other countries such as Switzerland, Austria, the Netherlands, Spain, Portugal, Italy and the rest of Europe, North Africa, the Middle East, etc., either directly or through our network of international partners.
We deliver dry ice not only directly, but also by courier or by mail, depending on the customer's requirements, the quantity and the destination. Contact us and we will be happy to advise you.